I saw this little bit of neat a while back and I've always wanted to recreate it for someone special. But of course by recreate I mean do it in a completely different way. Nevertheless.
What you need for this, however you decide to do it, is an artist's canvas, some paint, some electric or battery-powered lights (LEDs are safer), a knife for cutting, a brush for painting, and some glue for, well, gluing. In this particular project, there was also glitter involved.
First, check and make sure your lights are working. Yes? Good.
Now, paint your canvas however you like. I was going to do mine a nice metallic, but then I thought better of it and went with a soft matte gray instead. Because I didn't want to distract from the glitter.
As for your design, well, that's up to you. The original idea was just sort of abstract, like fireworks. But you could do constellations (like someone's Zodiac sign), or something more Lite-Brite-y. Or a marquee. Whatever you want. For mine, I decided on a dandelion, where each seed of my favourite flower (and I'm not ashamed to admit that I love that plucky weed) corresponded to a light.
Here's a quick sketch I did once I figured out my idea, just for proof of concept.
I lightly marked out the design on the painted canvas with a pencil. I had to make sure that the design was big enough to accommodate the size of the lights I had purchased.
Then I discovered that the ugly deflectors on my Dollarama lights weren't glued on and I could pull them off, meaning I was just left with the pretty little diode!
Then I cut out holes big enough for the lights to poke through.
I basically just needed to poke a hole with the Xacto and twist it a bit. While I was doing this the Pie started trying to make me mess up, which I did, on the very last hole. Then he started giggling and saying he shouldn't tease me when I have a knife in my hand. How well he knows me by now.
Then I poked through the lights. Make sure to test them and see how they look! Of course my camera plus low light equals blurry photo, but you get the idea.
Then, if you want, you can secure them in place with a bit of hot glue around the back, but I'll do that later. I don't want the lights to get all glittered up.
Now, for the front, I had to fill in the rest of my design. With glitter. I used regular school glue to fill in the parts of the dandelion seeds and stalk.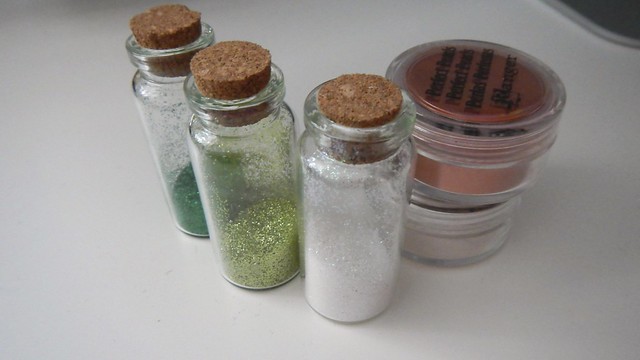 Then dusted them with appropriately-coloured glitter.
Then let it dry.
You can dust away loose glitter with a soft fluffy brush and some compressed air. I did most of this outside.
And sealed up my glitter again. Yes, I have a jar full of jars of glitter. That stuff is dangerous.
The seeds took forever because I did the little actual seed part first.
By the time I was done with all the white fluffy bits I was so done with glitter in general.
Here it is after I went at it with compressed air for a bit. It seems to work best on the superfine metallic powder.
It looks pretty good just on its own.
Then I added back in the lights and secured each with a drop of hot glue. This is where I discovered that if you don't use glue sticks for a while they yellow. Fortunately you can't see this on the front.
I also secured all the loose wires and the battery casings. It doesn't look pretty but you can't see it so who cares?
I like it. I like that it looks neat during the day, with the contrast in gray and glitter, and then when you turn it on at night the light sparkles off everything but the background (except for the few stray bits of glitter embedded in the canvas). I also like how the seeds kind of look like dragonflies. NEAT!