I made these from Amy Approved yesterday for another round of meetings at work.  They're gluten-free, dairy-free, and paleo, so if you have any sensitivities to food you're probably safe eating these (unless you're allergic to nuts, coconut, or eggs, in which case you might die – don't eat these).  In addition, unlike traditional lemon squares, where you bake the crust and then bake the filling, this filling is a stove-top deal, so it's ideal if you need your oven for something else.
Preheat your oven to 350°F and line a 8″ x 12″ baking dish with parchment paper.
Grab about 2 cups raw almonds (I used blanched ones) and pulse them in a food processor until they're in small chunks — don't go too far, though: you don't want almond meal.
Mix the almonds together with 1/4 cup honey, 1/2 cup melted coconut oil, 2 tablespoons coconut flour, and 2 large eggs.
It looks like vomit. Gross.  Don't let that deter you.
Press that sticky gooeyness into the bottom of the dish and bake that for 15 minutes, until the edges are slightly brown.  Let that cool completely.
For the lemon filling, crack 6 large eggs into a saucepan and add as well 1 cup fresh lemon juice (I used the juice of 4 large lemons), 1/2 cup honey, and a dash of sea salt.
I don't feel lemon bars are complete without some lemon zest as well, but I leave that up to you.
Whisk that all up and heat over medium.  Stir in 1/2 cup coconut oil until it's completely melted.
Keep whisking.
And whisking.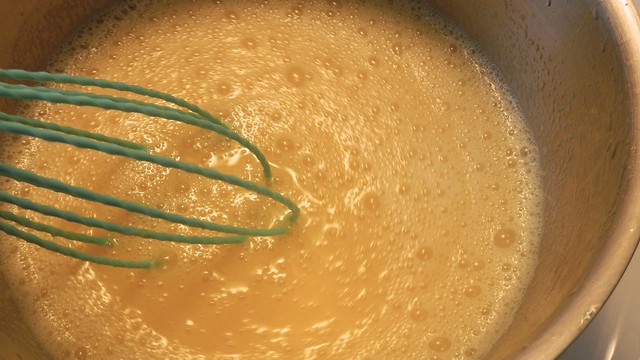 The mixture will eventually start to thicken, so you want to keep gently heating and whisking until you've got something resembling a thick pudding.
When you get there, give it a few more whisks and then you can remove it from the heat and let it cool completely.
Once the lemon goo is cool, you can smooth it over your crust.
Feel free to garnish the tops with shredded coconut as well.
Shove that in the freezer for about 30 minutes so everything will set and harden, then cut into bars. I just chucked mine in the fridge overnight.
Keep these babies in the fridge to prevent them from going gooey.  If they last that long. They're not as satisfying as a lemon square made with butter and sugar and flour but they're still pretty tasty!