When I saw this sugar scrub on The Idea Room I knew I had to give it a try. I ended up modifying it a little bit to suit my personal taste, but the end result is just as delightful: a luxurious scrub that eliminates the need for post-shower moisturizing and makes you smell absolutely edible. And if you feel you need to actually taste the scrub because it smells so amazingly, I won't judge. I may have eaten a small amount myself (it's yummy!).
Start with a little bit of unsweetened dried coconut, about 1 tablespoon coconut in total.
Give it a good whaz in your spice grinder or food processor until it forms fine crumbs. These will be great exfoliants.
Mix the ground coconut with 1 cup granulated sugar in a bowl, together with about 1 tablespoon freshly grated lime zest (you'll use 1 whole lime, if you double the batch, which I did).
Give that a good stirring, then drop in about 8 drops of your favourite essential oil (that matches with limes and coconuts, of course – I went with lemongrass, to offset the sweet fruitiness of the citrus). I also squeezed the lime I had zested, adding maybe 1 tablespoon lime juice to the mix.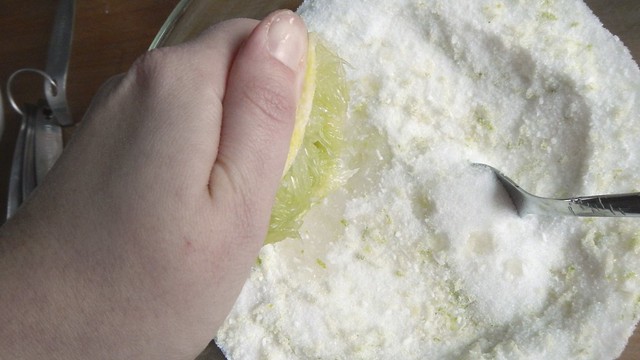 Melt 1/4 cup coconut oil and pour that into the sugar.
Stir until you have this lovely grainy wet sandy kind of thing. By now you are probably also hungry because of how amazing it smells.
Scoop that fluffy luxury into wee jars to give as gifts or to keep selfishly for your own use.
I gave all mine away but I'm definitely making this again!