In the new place, in our office, we have a giant three-paneled closet that covers the entirety of one wall.  If I were someone else I'm sure I would turn this into some kind of clothing storage extravaganza, but we already have two closets in our master bedroom and we don't even own that many clothes.  I DO, however, own a heckuva lotta crafty crap.
This past weekend, the Pie was out of town, which meant I was free to make a giant mess by hauling everything out of the crafty crap closet-to be and sorting it before putting it back in.  Here are the "before" shots: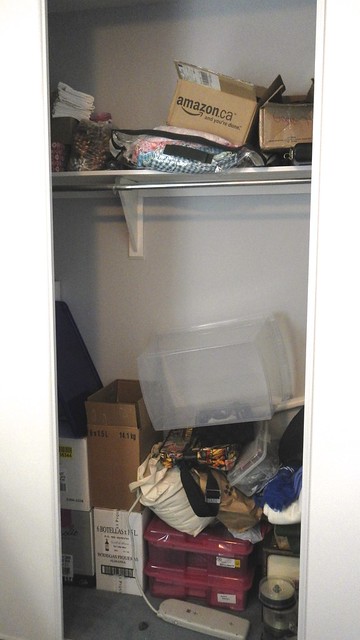 And the after.  The fabric is all neatly folded and entirely visible.
All my anthro books are stacked higgledy-piggledy on top, but I'll get around to sorting them, eventually.
Current works-in-progress are stowed on the shelves below while odds and ends I pick up at thrift shops are hung in bags from the rail.
I use open-ended shower curtain rings for this. They're also super-handy for hanging purses and backpacks in closets as well.
Then all my tools and oddments and accessories are handily plopped on these easy-to-reach shelves on the end. My plastic filing cabinet (not shown, but you can see part of it in the before shot) fits tidily in that bottom floor slot.
I bought a KVISSLE letter tray from IKEA and it is sitting on my desk, keeping all my bits of paper accessible and unwrinkled.