My house is still chaos.  Or at least it was on Tuesday when I took most of these photos.  By Wednesday it was thinking about being less chaotic, but then I unpacked some more boxes and we were back to nearly square one.  There is so much stuff that has been in storage for so long that once I unpack it from one box it goes directly into another for donation to the second-hand store.
We have a growing list stuck to the fridge of things that need to be acquired: garden hose nozzle. Pantry. Sink plug.  And another of grocery staples that I neglected to pick up that I always forget we need until I remember we don't have any: oats.  Lemons.  Baking soda.
There's another list, though this one is just a mental one at the moment: stuff that needs doing around the house.  Some of it is crucial and unglamourous, like deodorizing our carpets (the previous owners, it appears, had a stinky dog.  I'm so glad that Gren is not a stinky dog).  The more interesting ones, things that might turn into blog posts in the near future, I'll share with you today.
Many of them involve chaos sorting.  This is our living room on Tuesday morning.  On Wednesday it was in a totally different configuration.  My beloved coffee table is too big for the space and has been put in storage for the moment. Two couches are too cumbersome for the narrow room but they're all we've got at the moment, so until we can afford some chairs we're stuck.
I need to figure out my bedroom closet situation.  Everything that needs to be hung up is hung up, but we have no dressers for putting things away like sweaters and shirts.  So that's something to think on.
The kitchen chaos is ongoing.  I think I'm really going to like cooking here once I get my life sorted out.
The main issue is that there are three main cupboards and they all look like this one, disappearing into black holes that are completely useless to me.  So that's going to take some thinking, too.
My office closet is going to be a major undertaking.  I have a whole closet (!) for all my crafty crap.  So now I have to figure out where all that nonsense is going to go.
Once everything is sorted out, I have to figure out some currently nonexistent storage solutions.  Like how to fit a few pairs of shoes tidily at the bottom of the stairs. I also need to make a sheer curtain for that window.
And where to put all our china.  The Pie and I both came into our cohabitation with a set of heirloom china and a sterling silver tea set.  EACH.  Currently it's in our basement basement, but I want to show it off, because it's pretty.  And if I am showing it off then I might use it once in a while. It's been in storage for SEVEN YEARS. I think it's time we cracked it open.
I need a small and unobtrusive way to handle recycling on our main floor.  The big recycling boxes are in the basement, but I need some transitional system to keep in the kitchen or at the top of the stairs.
We need to get a new pantry/food storage system.  Our idea was to keep most of our food in our basement, next to the freezer.  This means that when we unload groceries through the garage, the non-perishables and things-to-be-frozen can stay there and save us having to lug them all upstairs.  While I'm at it, I'd like to paint the freezer, too.  It's been in a garage for a while and it's a mite rusty.
The house needs some TLC as well.  Our garage door has a lovely electronic opener which is really handy, but it's the LOUDEST thing in existence, and with dogs and small children on either side of us, we'd rather not disturb our neighbours.  My dad swears by this stuff so I'm going to give it a try.
The trim around the door and the garage door need to be repainted.  Our landlord was going to do it before we moved in but it was so cold and rainy that she couldn't.  I volunteered, and am just waiting for a nicer day to get started.
Our outside light also needs a thorough going-over.
Especially when you compare it to the condition of our neighbours'.  Makes me feel bad.
The backyard needs to be re-seeded with new grass.  It's still pretty spongy with water from our recent rains, though, so I'm holding off for drier weather.
And I need to start my window boxes, with my containers of fresh herbs.  I'm quite excited about that.
This is the space between our front steps and the garage door.  Most people on the street have done something ornamental to hide the pipes.  I'm going to do SOMETHING here. Just haven't figured out what.
Similarly, I have these six glass vases that are apparently leftover from my wedding, five years ago.  I'm not sure what to do with them, either.  Any ideas are appreciated.
And then there are a number of things that just need to be re-surfaced.  This couch, as you know, is the bane of my existence, and that tired slipcover has needed a replacement for AGES.  You can still get the covers for this KLEPPAN sofa (IKEA) off eBay, so the Pie and I are going to get a white one and dye it an appropriate colour … once we figure out what that colour is.
These IKEA lamps are also the bane of my existence because the paper shades collect dust like nobody's business and they rip when you so much as breathe on them.
I'm going to replace them all with pretty fabric instead.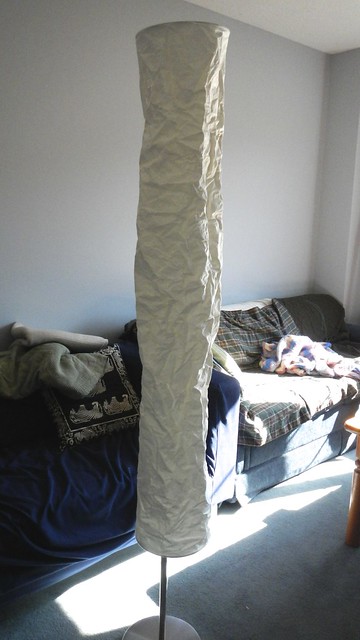 We have eight of these STEFAN chairs (oh IKEA again) and these are staying in the kitchen to go around a teeny tiny table that The Traveler is passing on to us.  We're going to decoupage them with comic books.  The Pie is super excited about this.
These shelves,
and these shelves,
and these shelves all need a new coat of paint.
This used to be the cabinet holding the Pie's video games but I have now stolen it and made it into my spice cabinet.  It needs a pick-me-up coat of paint and a little sumpin'-sumpin', too.
And these were our bedside tables for forever, but since we ditched our box spring they have become way too tall to be useful to us.  So I'm going to tack a piece of wood onto the top and turn them into a wee pretty vanity table for all my girlie crap.  I'm excited about this.
I'm sure there's more.  But that's all my brain can handle at the moment.  And I'm sure that's all you wanted to read about, too.